Family Golf Lessons Regina
The family that plays together ....
Family Golf Lessons
Family golf is Fun golf
Taking Family Golf Lessons with Barry Eisezimmer Golf means your family is introduced to the game of golf in a fun. In a relaxed and supportive environment.
Learning together promotes family values and builds life-long relationships.
Family can vary in size from as few as 2 members or up to 10. Depending on Covid-19 Health requirements the total number and composition of each class will follow health guidelines.
Junior members will be required to have their own golf equipment. Students are not required to have golf gloves or golf shoes. Ordinary tennis shoes are adequate.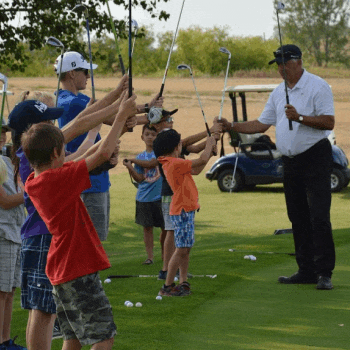 Junior Golf Camp Regina
Learn to play golf outside, not inside on a video game
This half-day camp is designed to showcase the two elements of the short game and long game to the student.
It introduces all the changes to the basics of setup for putting, chipping, and full swings necessary to complete a sound golf shot. This is a well-rounded introductory course for juniors. When it comes to learning the game of golf, nothing is better than learning it at a young age from a qualified, professional instructor. Our goal is to teach students in a highly supportive, non-intimidating, and most importantly, safe environment.
While we teach golf techniques and etiquette we do it in a way that lets your kids be kids, which is the most important part of it all. Your kids might be able to compete in golf in a video game, but what about fresh air, what about learning how to interact with other people and learn how to exercise.
Regina Junior Golf Camp Details
Ages 10 to 18
Available to 6 students per session
Dates

June 2
June 9
June 16
June 23

Cost $150
Golf camp includes:
3 hours of golf instruction
Lunch
Welcome package
Golf Camp Itinerary Registration – Welcome to Flowing Springs Golf Greens Junior Camp
Basics of Putting

Pre-shot setup basics
Dynamic shot basics
Triangle movement
Length + Speed = Distance
Effect of Slope & Grain of Putt

Water Break
Basics of Chipping/Pitching

Pre-shot setup basics
Dynamic shot basics
Air/Ground Ratio
Club Selection & Impact on Air/Ground Ratio
Length + Speed = Distance

Water Break
Basics of Golf Swing
Basics of Dynamic Swing

Take away
Down Swing
Finish Position

Lunch
Regina Golf Blog
Don't have time for lesson?
Check out my golf blog for tips and drills.
Golf Lesson Blog