Indoor Golf Lessons Regina
One-On-One Golf Lessons
Indoor Golf Lessons Regina
Have golf swing problems?
Not when you want to play golf.
Golf lessons indoors will provide a faster learning environment
Taking Indoor golf lessons offers many advantages to golfers of all levels. Also, indoor golf instruction provides privacy and discretion in a comfortable, climate-controlled environment.
Golfers who compete at high levels recommend maintaining a consistent, year-round practice schedule to avoid slumps and muscle memory loss.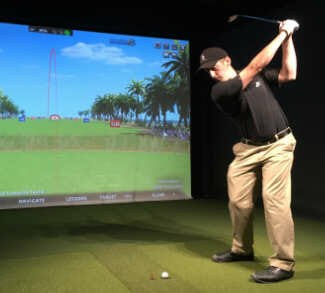 Indoor golf lessons provide immediate feedback
The benefits of indoor golf facilities are the use of ball flight data and video swing analysis software. The visual image of the ball on the screen is no different from how ball flight looks outside.
Indoor golf lessons encourage students to focus on the dynamics of the golf swing rather than the outcome. While taking a golf lesson, it is more important to concentrate on the golf swing process than the result.
Learning golf indoors helps develop a fundamentally good swing.
How much do Indoor Golf Lessons Cost?
I teach indoor golf lessons out of Divots Indoor Golf. Located in northwest Regina. These indoor golf lessons are available Monday to Friday only.  Hours available to book indoor golf lessons are 11:00 am until 4:00 pm.
1 Indoor Golf Lesson |  $125
3 Indoor Golf Lessons | $350
5 Indoor Golf Lessons | $575
Indoor Golf Lessons must be booked 1 week in advance.
All lessons are paid by credit card at time of booking
No refunds 14 days or less prior to the first lesson
Instructor will notify client of cancellation/changes to schedule 2 hours or less prior to a lesson by email/text only
All lessons are as scheduled unless instructor advises of change
24 hours notice by client is required for all cancellations/changes to scheduled lessons
Failure to do so will result in lesson being charged to account
All lessons are valid for one year from date of purchase
All applicable taxes will be added to pricing
All pricing subject to change
Lessons are available at these times in order to reduce the imprint on the facility during its busiest hours and days of the week and lesson rates reflect added costs of facility rentals.
Scheduling will also be adjusted based on Divot's corporate or private event bookings.